Stop what you are doing for a moment. Take enough time and space to give yourself permission to be afraid, and then to awaken to the possibility that we are all in this moment experiencing something similar. In this moment we are doing what we need to do. And that can mean self-care. Time to just breathe and be present. There are some links at the end for yoga, meditation, stats without media spin, and the math behind the expectations.
Today marks a day where the anticipation and preparation begin to meet the hard numbers we have been expecting. New York now tops 4,000 cases in just over two weeks when the number was ~100. Exponential growth is sometimes difficult to completely grasp. The idea that there is a doubling time of 5-8 days means that during the lead time it seems as if there is nothing happening. Then it seems like overnight there are thousands of cases. The best physical experience any of us have had that can compare is fire. The kindling starts to glow in the early stages imperceptibly. It is small and delicate, and then with a little time it grows. Moments later it seems as if all at once there is a raging and invincible force consuming anything coming into contact with it. In just a few minutes a fire can spread wildly out of control consuming everything in its path.
We have passed the point of the tiny flame here in New York. The number of infections continues to rise, rapidly. That being said the measures we are taking are intended to keep it at a first responder level and not an uncontrollable forest fire.
For each of us there is a responsibility to act in accordance to self-preservation, but also in a manner that helps to serve one another. Understand that ideas are viral. Behaviors are viral. We understand the concept of something going viral. We literally use that term to describe something exploding into the collective consciousness. SARS-CoV-2 is viral. So let us be mindful of that concept as we see the numbers grow. It is our responsibility to act in ways that will defeat this enemy. And we will.
How long will this last? is the most common question I have received in the past day or so. Will we be able to stand it? What bargains can I make to minimize the impact of this thing? What is my responsibility? Understand that right now there are those infected that have not presented yet. The numbers we know today will certainly grow as the exposed become the infected over the coming days. The following relates to incubation – the time from exposure to illness.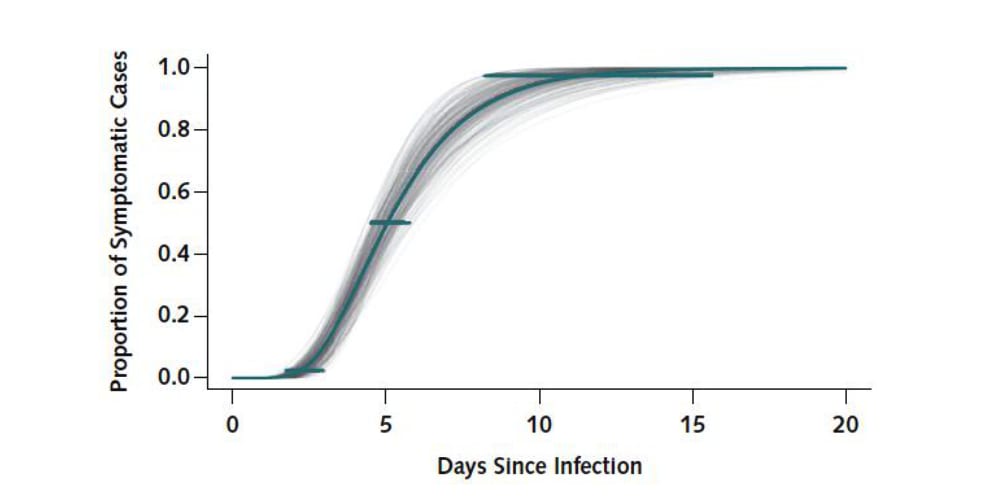 Graphic: Annals of Internal Medicine, March 10, 2020
With that in mind, our brave doctors, nurses, clinical staff, and hospital support staff are working tirelessly to prepare for this pandemic and take care of the sick. My colleagues and friends are reporting back their experiences and fears as they begin to encounter the real human beings impacted. There is nothing wrong with fearing for one's self or one's family. Every person at the front lines of this battle will feel that. Now is the time to lean on one another. It is taking a moment so that these heroes can know that the rest of the world has their backs – that we will all do our best to remain vigilant against this beast. A mindful awareness of our experiences can help to open a pathway for meditation as well as some time in your routine to hold the space for those that are sick and those fighting to care for the sick.
Coping strategies from Columbia
Doximity dialer allows calls from your mobile device with your office number shown in caller ID.
Tim Ferris blog with Jack Kornfield, Peace among COVID-19
World health organization updates data everyday.
The CDC is doing an excellent job of keep people informed.
PubMed is the source for medical studies and the place where we all go to learn in medicine.
A nice video explaining exponential growth
Be safe and be well.
If you are in need of urgent care our hospital has telehealth urgent care. Also, I am available for muscle, bone, concussion injuries or follow up visits remotely via telehealth as well. We will determine severity and acuity and can coordinate urgent or emergent care.
Please leave questions or comments or ideas for future posts.